Script/ Directing: Anastasia Malkhazova
D.o.P.: Alexander Trunkovsky
Music: Russian Pomorian Choir
Music arrangement: thereyoughost
Producer: Academy of Media Arts, Cologne
This documentary is about the election fraud in Russia, which happened during the parliament election in 2011/2012. In a small town in deep north of Russia the rate of votes was very high this time. Most people voted for the Communists party but somehow their votes have been removed and counted for the party «United Russia», which is the leading party of President Putin. 
Thanks to the supervisors, who found out the fraud, which was committed  in an almost absurd way, we have the proof of the falsification of votes. But the court was still unable to do justice to the peoples voice. Where is the democracy when your vote can be simply rewritten and nobody finds out?
Festivals (selection) : ARTDokFest, Moscow 2014; Dokfest München, 2014; Message to Men, St. Petersburg 2014;
Bleed vor bleed, Antwerpen, Filmfest Dortmund, «human rights prize»; Cologne, Germany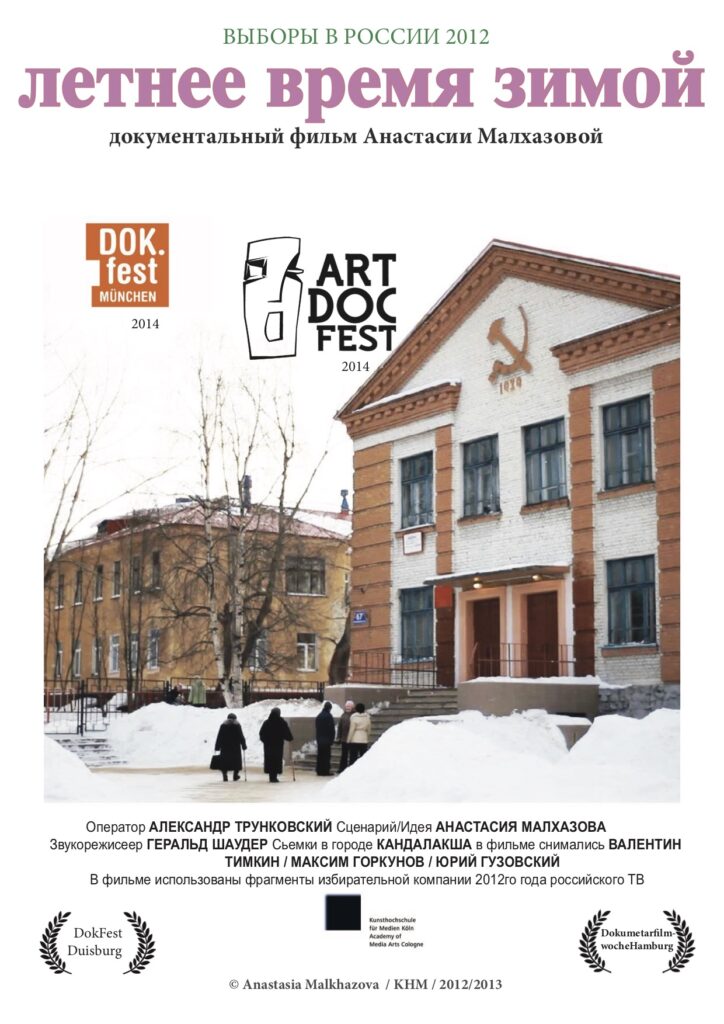 Автор сценария Режиссер: Анастасия Малхазова
Оператор: Александр Трунковский
Продюсер: KHM
Документальный фильм сопровождает процесс выборов 2012 г. в маленьком городе в Мурманской области. В процессе выборов по всей стране было зафиксировано громадное количество фальсификаций. Так и в Кандалакше, жемчужине Kольского полуострова выборы были сфалцифицированы в пользу «Единой России». Власть упорно сопротивлялась разъяснению большого преступления. В отличие от некоторых граждан, которые не жaлея сил добивались прав граждан РФ в местных судах.